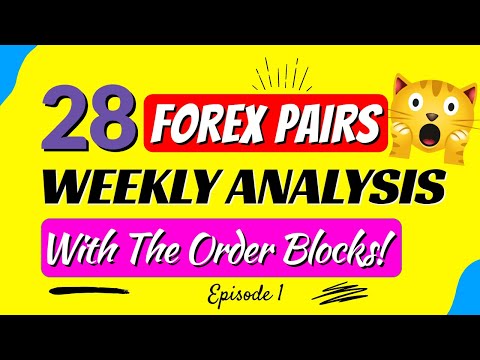 New to the order blocks trading strategy? Watch FULL tutorials here: https://www.youtube.com/watch?v=gFt5Wmy_w8M&list=PLrfZrf9yUXJ21TC_ENiXgJi73tII4Sku0&index=1&ab_channel=StarseedFX Join our ORDER BLOCKS TRADERS Telegram Group: https://t.me/joinchat/3WVscLc4PE5lOGNk
While you are here… ❤️ 𝐆𝐄𝐓 𝐀𝐍𝐍𝐄'𝐒 𝐎𝐑𝐃𝐄𝐑 𝐁𝐋𝐎𝐂𝐊𝐒 𝐀𝐋𝐄𝐑𝐓𝐒: https://www.OrderBlocksAlerts.com (𝐨𝐧𝐥𝐲 $𝟏𝟎/𝐦𝐨𝐧𝐭𝐡) + 𝐆𝐮𝐢𝐝𝐚𝐧𝐜𝐞 𝐟𝐫𝐨𝐦 𝐀𝐧𝐧𝐞 𝐡𝐨𝐰 𝐭𝐨 𝐬𝐧𝐢𝐩𝐞 𝐢𝐭!
In this video you will get 28 forex pairs (majors and minors) analysis based on the order blocks trading strategy. I hope I can provide weekly market analysis like this for everyone to see.
💥 Learn how to read market structure and which order blocks that hold: https://www.youtube.com/watch?v=dVEcEZ7Ni7A (Tutorial PART 5 – Content for Beginners to Advanced)
🔴 If you are confused about Money Management watch my explanation here: https://www.youtube.com/watch?v=k7HJowoVpt0
💥 The tool I use on my chart: https://www.mql5.com/en/market/product/32153 (include money management and automatic lot sizes calculation for every single of your trade!)
🔴 Subscribe to our channel: https://www.youtube.com/channel/UCm7CbHnKPBKoh9WW8UO4O4Q?sub_confirmation=1
⚠️ DISCLAIMER ⚠️
The information on this channel is for educational purpose only and should not be taken as a substitute for consultation from a financial expert. Before trading in financial market, consult your financial advisor as some of the available contents do not take into account your personal objectives, financial situations or needs. We encourage you to seek independent advice if necessary. Any data and information is provided 'as is' solely for informational purposes, and is not intended for trading purposes or advice. StarseedFX does not take any responsibility or liability for any financial investing of any sort that was initiated or carried out based upon or using information from StarseedFX.
#TechnicalAnalysis #OderBlocks #Forex #TradingStrategy #OrderBlockTradingStrategy #OrderBlock #OrderBlockTrading #ForexTrading #Investing #LearnToTrade #Money #DayTrading #ForexSignals #Invest #FinancialMarket