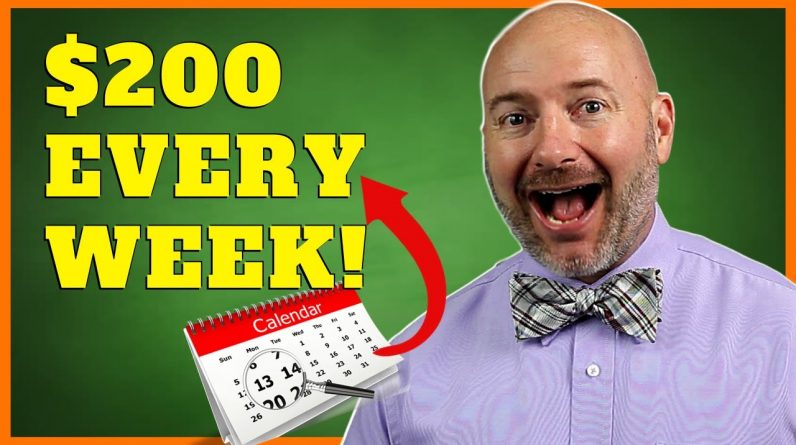 Stop waiting for your dividend stocks to pay. My dividend investing strategy pays me dividend income every single week and at almost twice the yield as the market.
Check out the stock simulator and Get 2 FREE shares of stock worth up to $1000 each when you open a Webull investing account with a $100 deposit! 🤑 https://mystockmarketbasics.com/webull
Those of you in the Bow Tie Nation know I love dividend stocks, like almost too much, but I hate waiting around for that dividend income to hit my bank account. Most dividend stocks only pay every three months which can make for a long time between checks.
But by using a trick in the way dividend-paying companies declare and pay their dividends, I get cash hitting my account each and every week!
In this video, I'll show you how to make your own dividend investing strategy and reveal the 12 dividend stocks I use for weekly income. I'll also share the important dividend dates to remember to make sure you do this strategy right.
Since most dividend-paying stocks pay during the same week each quarter, for a total of four payments a year, you only need 12 dividend stocks to collect a dividend 48 weeks out of the year…if you plan it right. I went through every dividend stock in the S&P 500, both quarterly and monthly dividend payers, to find the weeks they paid. I then narrowed it down to the best dozen stocks to buy for a 3.6% dividend yield, almost twice as high as the average dividend yield on the stock market, that would pay out every week.
Understand that if you use data from Yahoo Finance on dividends, you're going to see when the ex-dividend date is for the stock. This is the first day the stock trades without the dividend so you need to buy it the day before if you want to collect. After that, the stock will usually pay its dividend within two or three weeks.
Using this strategy makes it perfectly possible to live off dividends but it can perform miracles. A 3.6% dividend yield is high for large-cap stocks but is still only $360 in dividends. To collect that $200 per weekly dividend, I've had to save up and invest for over 20 years. It might not sound as great as monthly dividend stocks with double-digit yields but these 12 stocks have grown my portfolio as well as paid out those consistent dividends.
2:00 12 Dividend Stocks for Weekly Cash Flow
6:32 Important Dividend Dates to Remember
11:17 How to Make Your Own Dividend Investing Strategy
Join the conversation in our private Facebook Group!
https://www.facebook.com/groups/3083628104983203/
Join the Let's Talk Money community on Instagram! https://www.instagram.com/lets_talk_money_josephhogue/
Free Webinar – Discover how to create a personal investing plan and beat your goals in less than an hour! I'm revealing the Goals-Based Investing Strategy I developed working private wealth management in this free webinar. Reserve your spot now! https://mystockmarketbasics.com/free-investing-webinar
My Books on Investing and Making Money 💰 📗
📈 Step-by-Step Dividend Investing http://amzn.to/2aLpFcs
Step-by-Step Bond Investing http://amzn.to/2aLpA8p
Make Money Blogging http://amzn.to/2kpL6Cr
📺 Crushing YouTube https://amzn.to/2YVCqfi
🙏 Step-by-Step Crowdfunding http://amzn.to/2aS2DRK
SUBSCRIBE to create the financial future you deserve with videos on beating debt, making more money and making your money work for you. https://peerfinance101.com/FreeMoneyVideos
Joseph Hogue, CFA spent nearly a decade as an investment analyst for institutional firms and banks. He now helps people understand their financial lives through debt payoff strategies, investing and ways to save more money. He has appeared on Bloomberg and on sites like CNBC and Morningstar. He holds the Chartered Financial Analyst (CFA) designation and is a veteran of the Marine Corps.