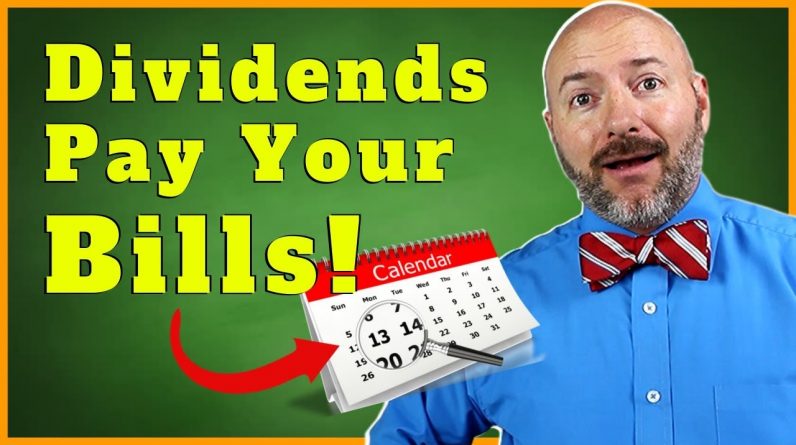 The only thing better than a monthly dividend stock is getting that monthly payment from the safety and reliability of a monthly dividend ETF. In this video, I'll share a monthly dividend ETF list along with some of the highest paying dividend funds and stocks.
Everyone loves monthly dividends. It's so easy to plan your bills around that monthly check and who doesn't like getting paid regularly? There aren't a lot of dividend stocks that pay monthly though, only about 70 in fact, so these monthly dividend ETFs are a great alternative.
Automate your investing with commission-free M1 Finance and get a bonus of up to $2,500 when you fund your account. Check out the investing platform I use here https://mystockmarketbasics.com/joinm1finance
Does it matter whether a stock pays monthly or quarterly dividends though? Most quarterly dividend stocks pay during the same four months every year so it's easy enough to plan out your portfolio so you're getting a check each month. Monthly dividend funds just offer the one-stop option so you don't have to do that planning.
I've also included a list of the highest paying dividend ETFs though I've got to warn you here. Chasing these high dividend yields isn't always the best decision. These funds tend to use a huge amount of leverage so they underperform when the market falls and the management fees are up to five-times regular ETFs. These dividend funds also tend to hold investments in just a few high-yielding sectors like REITs, MLPs and BDCs so you're portfolio might not be as diversified as you think.
FREE Download, The five ratios I use to compare stocks and the financial terms every investor MUST know. https://mystockmarketbasics.com/quick-start-stocks
Check out why I don't like closed-end funds and the hidden traps waiting for investors. https://youtu.be/_UIrO3ZxLqE
The true monthly dividend ETFs might not offer the highest yields but they can be a good alternative to individual stocks. What I really like about the funds included in this list is they give you access to different assets and investments in one fund including stocks, bonds and real estate. The dividend payout on these is very consistent and some even protect your money in a stock market crash.
I'll also show you how to create your own monthly dividend portfolio through individual stocks. By investing in 20 or more quarterly and monthly dividend stocks, you're guaranteed to get a dividend check every month and you can pick-and-choose between the best stocks available, something you don't get to do buying an ETF.
1:54 Monthly vs Quarterly Dividend Stocks
2:05 Pros and Cons Monthly Dividend Stocks
3:09 Highest Paying Dividend ETFs
7:25 Best Monthly Dividend ETFs
10:50 How to Create Your Own Monthly Dividend Fund
Join the Let's Talk Money community on Instagram! https://www.instagram.com/lets_talk_money_josephhogue/
My Investing Recommendations 📈
📊 FREE download – the 5 Sites and Resources I use to invest https://mystockmarketbasics.com/myinvestingtools
Check out the stock simulator and Get 2 FREE shares of stock worth up to $1000 each when you open a Webull investing account with a $100 deposit! 🤑 https://mystockmarketbasics.com/webull
Free Webinar – Discover how to create a personal investing plan and beat your goals in less than an hour! I'm revealing the Goals-Based Investing Strategy I developed working private wealth management in this free webinar. Reserve your spot now! https://mystockmarketbasics.com/free-investing-webinar
Want to know how I started six blogs from scratch to make over $12,000 a month? Get this FREE five-day email course on building a blog that makes money and an easy checklist with everything you need. https://myworkfromhomemoney.com/free-build-a-blog-checklist/
FREE Download: Want to know how I made over $140,000 last year blogging? Download this free quick-start guide to starting a blog and what you need to know to make money! https://myworkfromhomemoney.com/blogging-quick-start
My Books on Investing and Making Money 💰 📗
📈 Step-by-Step Dividend Investing http://amzn.to/2aLpFcs
Step-by-Step Bond Investing http://amzn.to/2aLpA8p
Make Money Blogging http://amzn.to/2kpL6Cr
📺 Crushing YouTube https://amzn.to/2YVCqfi
🙏 Step-by-Step Crowdfunding http://amzn.to/2aS2DRK
SUBSCRIBE to create the financial future you deserve with videos on beating debt, making more money and making your money work for you. https://peerfinance101.com/FreeMoneyVideos
Joseph Hogue, CFA spent nearly a decade as an investment analyst for institutional firms and banks. He now helps people understand their financial lives through debt payoff strategies, investing and ways to save more money. He has appeared on Bloomberg and on sites like CNBC and Morningstar. He holds the Chartered Financial Analyst (CFA) designation and is a veteran of the Marine Corps.
#dividends #etf #stocks