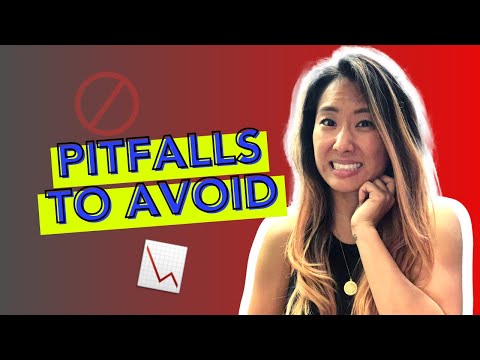 I've learned a lot about trading over the years, both from my experience working as a forex trader on Wall Street and also from my 5 years of trading options on my own at home for side income. I wanted to save you from some of the pitfalls that happen to many people who are just starting to dip their toes into options trading, and I've got some stories to share with you as well (since no one is immune to making mistakes) – so watch this video to hear my take on the major pitfalls to avoid!
__________
***FREE LIVE MASTERCLASS: $1K On The Side
3 Insider Tips To Creating Consistent Monthly Cashflow With Options Trading
https://www.rosehan.com/optionstrading ← SIGN UP HERE
__________
My $400/Day Side Hustle

Options Trading for Beginners (WITH DETAILED EXAMPLES)

Best App For Trading Options

Is Options Trading GAMBLING?

***OR CATCH THE WHOLE 6-WEEK SERIES W/ THIS PLAYLIST!***

__________
***ROSE'S FILMING EQUIPMENT 📷***
Tripod: https://amzn.to/3G7FaqJ
Camera: https://amzn.to/3KN1BoC
Microphone: https://amzn.to/3tSdaVf
Lens: https://amzn.to/3H2QmGo
__________
DISCLAIMERS & DISCLOSURES ❤
This content is for education and entertainment purposes only. Rose does not provide tax or investment advice. The information is being presented without consideration of the investment objectives, risk tolerance, or financial circumstances of any specific investor and might not be suitable for all investors. Past performance is not indicative of future results. All investing involves risk, including the possible loss of principal.
This description contains affiliate links that allow you to find the items mentioned in this video and support the channel at no cost to you. Investing With Rose is a participant in the Amazon Services LLC Associates Program, an affiliate advertising program designed to provide a means for sites to earn advertising fees by advertising and linking to www.amazon.com. Thank you for your support!
__________
SAY HI ON SOCIAL:
Website: https://www.rosehan.com
Instagram: http://instagram.com/investingwithrose
TikTok: https://www.tiktok.com/@investingwithrose
Twitter: https://twitter.com/hellorosehan
Facebook: https://www.facebook.com/investingwithrose
LinkedIn: https://www.linkedin.com/in/hellorosehan