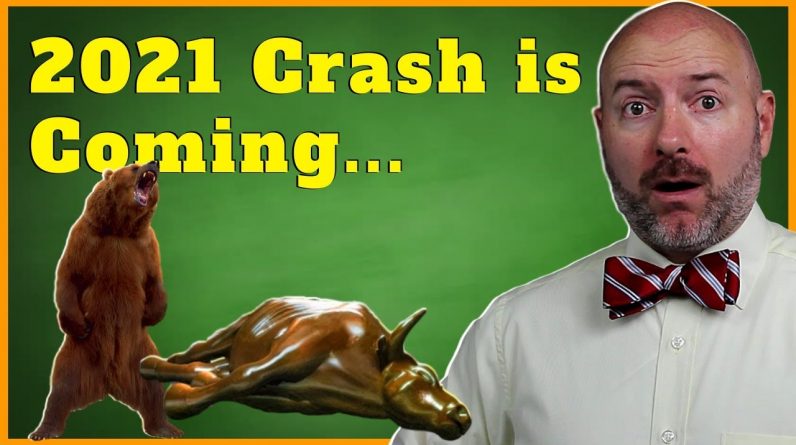 Be ready for a stock market crash with the daily news and trends you need! Get the Daily Bow-Tie…FREE! 🤑 https://mystockmarketbasics.com/dailybowtie
The stock market is undeniably expensive. Stocks in the S&P 500 are trading for 40-times on a PE basis, the most since the tech bubble, and more investors are using the momentum strategy than ever before. Stock market crashes don't happen just because shares are expensive though. It takes a catalyst for stocks to drop.
Stock market corrections happen nearly every year though, every two-in-three years going back to 1966 in fact, and there is likely to be at least a stock selloff of 10% or more this year. You need to know the warning signs so you can get out of stocks before that happens!
In this livestream, I'll show you the stock market news and headlines that could cause the next market crash. I'll describe each, how to follow it and how to know when a crash is coming.
We'll start with the price of Bitcoin and other momentum investments. Momentum investing has surged over the past year and if the market turns against some of the most popular stocks…it could easily lead to a stampede of investors and clue you in that a stock market crash is coming.
I'll also show you the economic hints that lead to a stock market crash including interest rates and housing. I'll show you how to invest and the stocks to buy in a market crash. Then I'll show you how earnings affect stock prices and why we may already be in the beginning of the big stock market crash of 2021!
My Investing Recommendations 📈
📊 Download this Portfolio Tracker and Investing Spreadsheet! [Community Discount Code] https://mystockmarketbasics.com/spreadsheetdiscount
Check out the stock simulator and Get a FREE share of stock worth up to $1000 when you open a Webull investing account with a $100 deposit! 🤑 https://mystockmarketbasics.com/webull
Free Webinar – Discover how to create a personal investing plan and beat your goals in less than an hour! I'm revealing the Goals-Based Investing Strategy I developed working private wealth management in this free webinar. Reserve your spot now! https://mystockmarketbasics.com/free-investing-webinar
SUBSCRIBE to create the financial future you deserve with videos on beating debt, making more money and making your money work for you. https://peerfinance101.com/FreeMoneyVideos
Joseph Hogue, CFA spent nearly a decade as an investment analyst for institutional firms and banks. He now helps people understand their financial lives through debt payoff strategies, investing and ways to save more money. He has appeared on Bloomberg and on sites like CNBC and Morningstar. He holds the Chartered Financial Analyst (CFA) designation and is a veteran of the Marine Corps.
#stocks #stockmarket #news