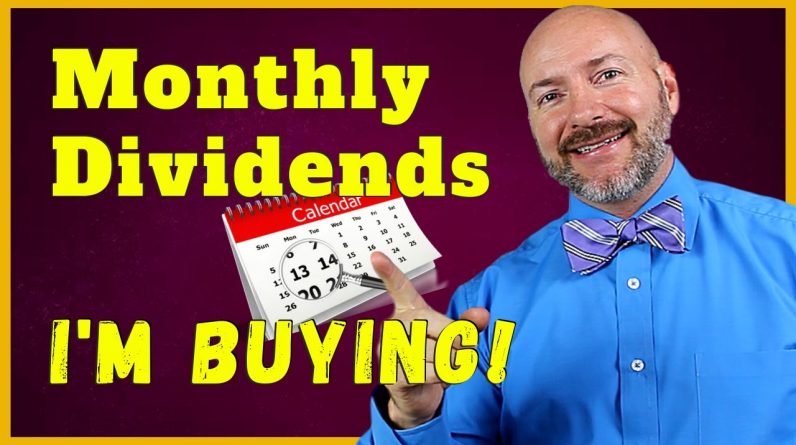 The best monthly dividend funds that not only put cash in your pocket but will do it consistently and safely. Never worry about your monthly dividend stocks again!
Check out the stock simulator and Get 2 FREE shares of stock worth up to $1000 each when you open a Webull investing account with a $100 deposit! 🤑 https://mystockmarketbasics.com/webull
There's only one thing better than finding that perfect dividend stock with a high yield, even better is when it takes the risk out of your portfolio and puts that cash in your pocket EVERY SINGLE MONTH! In this video, I'll show you why every investor needs monthly dividend funds in their portfolio and how to find them. Then I'll reveal the seven best monthly dividend ETFs for high yield and returns.
We talked about monthly dividend stocks last week and the video was immediately one of the most popular ever . I mean, who doesn't like getting paid every single month for holding a stock and we looked at the best out there with yields of eight- and ten-percent.
Don't miss that monthly dividend stocks video for yields up to 12% and some great stock picks for your portfolio. https://youtu.be/pYTC1yVStk8
But one of the biggest problems with monthly stocks, the issue we talked about in the video, is that risk in having all your money in just a few business types. Since most monthly dividend stocks are either REITs or BDCs, just investing in these sets your portfolio up for a nasty surprise when the economy comes down on the group.
That's why I had to follow the video up with this one and an idea that's going to give you the chance to keep collecting that monthly dividend payment but also lower the risk in your investments. Keep the cash flow AND know that those dividends will be there when you need them!
One of the best things about these monthly dividend funds is they give you the chance to diversify your portfolio into other assets and stocks. Even most dividend stocks don't pay on a monthly basis so if when you're looking for that constant cash flow, you're really limited to those few business types.
With these dividend funds, they invest in different assets like preferred shares and stocks, and even if those don't pay monthly, the fund take that cash flow and pay it out regularly to investors.
So we're going to look at seven great dividend ETFs but I want to do more than just tell you which funds to buy. I want you to look at two factors when investing in dividend funds. Most dividend investors go straight to that dividend yield on the fund but I want you to also look at a chart of the stock price and build that into your decision. In that last video, we looked at another one of those problems with monthly payers, a falling stock price.
You also want to look at the expense ratio for the fund. That's the annual percentage fee charged on fund assets. The best ETFs, like those from Vanguard and Fidelity, are going to have expense ratios under 0.25%. A lot of these monthly dividend funds are actively managed and the fund might be using some alternative assets to produce that higher dividend yield, so most here are going to charge higher expense ratios but I wouldn't pay more than a percent or so for any fund.
Running out of space in the description so watch the video for that list of best monthly dividend funds. I'll show you dividend yields on each as well as why I'm buying and how to create a dividend portfolio that pays you every single month.
Join the conversation in our private Facebook Group!
https://www.facebook.com/groups/3083628104983203/
Join the Let's Talk Money community on Instagram! https://www.instagram.com/lets_talk_money_josephhogue/
My Investing Recommendations 📈
📊 Download this Portfolio Tracker and Investing Spreadsheet! [Community Discount Code] https://mystockmarketbasics.com/spreadsheetdiscount
Free Webinar – Discover how to create a personal investing plan and beat your goals in less than an hour! I'm revealing the Goals-Based Investing Strategy I developed working private wealth management in this free webinar. Reserve your spot now! https://mystockmarketbasics.com/free-investing-webinar
SUBSCRIBE to create the financial future you deserve with videos on beating debt, making more money and making your money work for you. https://peerfinance101.com/FreeMoneyVideos
Joseph Hogue, CFA spent nearly a decade as an investment analyst for institutional firms and banks. He now helps people understand their financial lives through debt payoff strategies, investing and ways to save more money. He has appeared on Bloomberg and on sites like CNBC and Morningstar. He holds the Chartered Financial Analyst (CFA) designation and is a veteran of the Marine Corps.