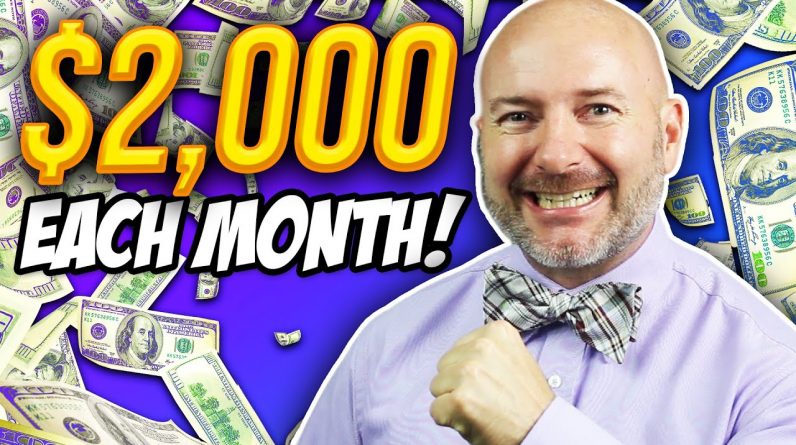 Wouldn't it be great if your monthly dividend stocks paid your rent for you? I'll show you how! Want to make more dividends? Check out these 7 Highest Paying Dividend Stocks https://youtu.be/w40-W4Tk568
I love dividend stocks but hate waiting. Life and my bills don't revolve around a quarterly schedule so why do most dividend stocks only pay every three months? I've found a way to pay the bills with monthly dividend stocks, companies that will send you cash flow every single month.
🤑 Get The Daily Bow-Tie – my FREE daily email newsletter sharing market updates, trends and the most important news! Market Updates for the Smart Investor! https://mystockmarketbasics.com/dailybowtie
In this video, I'll show you how to find monthly dividend stocks and how to invest. We'll look at three keys to analyzing dividend stocks so you only invest in the very best. I'll then reveal seven monthly dividend stocks that will help you pay the bills and exactly how much to invest to make enough money every month.
An important note here, please do not just invest in the highest paying dividend stocks. There are a lot of stocks offering dividend yields of 10% and higher but you end up losing just as much money from a falling stock price as you gain in the dividend. That will get you nowhere. Instead, focus on the high-yielding stocks that not only put cash in your pocket but also grow your portfolio.
For that, I like looking at the payout ratio to make sure the company is holding enough back for growth as well as paying out dividends. I also just take a quick look at the stock chart and total return over the last few years, are the shares losing value or increasing? There are other ways to analyze dividend stocks but these two simple factors will get you started.
Check out the stock simulator and Get a FREE share of stock worth up to $1000 when you open a Webull investing account with a $100 deposit! 🤑 https://mystockmarketbasics.com/webull
As for how much to invest in monthly dividend stocks for that consistent payout, first find how much you want to make in dividends and multiply by 12 to get an annual amount. Then divide that amount by the dividend yield on a stock or the average yield on your portfolio. That will show you how much to invest to create the cash flow you need to pay the bills.
If you love dividend stocks as much as I do…and I know you do, you won't want to miss these dividend stock videos for the best stocks and strategies!
Check out these 12 Stocks for Cash Flow EVERY Week! https://youtu.be/vaMm3lAVZr4
These are my favorite dividend stocks for passive income you can count on! https://youtu.be/Rif_AG6RfMs
Every investor needs these 3 Monthly Dividend ETFs https://youtu.be/hF43_i-co-4
My Investing Recommendations 📈
📊 Download this Portfolio Tracker and Investing Spreadsheet! [Community Discount Code] https://mystockmarketbasics.com/spreadsheetdiscount
Check out the stock simulator and Get a FREE share of stock worth up to $1000 when you open a Webull investing account with a $100 deposit! 🤑 https://mystockmarketbasics.com/webull
Free Webinar – Discover how to create a personal investing plan and beat your goals in less than an hour! I'm revealing the Goals-Based Investing Strategy I developed working private wealth management in this free webinar. Reserve your spot now! https://mystockmarketbasics.com/free-investing-webinar
Ready to Make Money Online? 🤑
Get this special negotiated deal with Blue Host for web hosting https://myworkfromhomemoney.com/bluehost
Free Webinar to Grow a YouTube channel! How I grew from 0 to 75,000 subs fast! https://myworkfromhomemoney.com/webinar-grow-youtube/
Want to know how I started six blogs from scratch to make over $12,000 a month? Get this FREE five-day email course on building a blog that makes money and an easy checklist with everything you need. https://myworkfromhomemoney.com/free-build-a-blog-checklist/
SUBSCRIBE to create the financial future you deserve with videos on beating debt, making more money and making your money work for you. https://peerfinance101.com/FreeMoneyVideos
Joseph Hogue, CFA spent nearly a decade as an investment analyst for institutional firms and banks. He now helps people understand their financial lives through debt payoff strategies, investing and ways to save more money. He has appeared on Bloomberg and on sites like CNBC and Morningstar. He holds the Chartered Financial Analyst (CFA) designation and is a veteran of the Marine Corps.
#dividends #dividendstocks #dividendinvesting