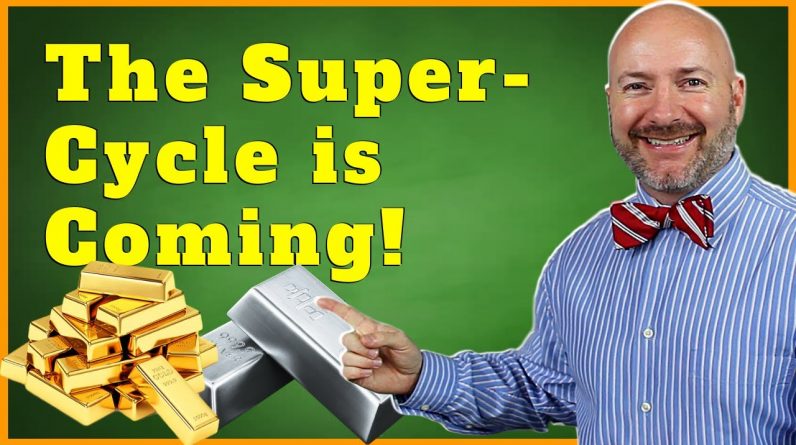 Shares of silver and gold penny stocks could be the break away investments this year with Goldman Sachs predicting a new super-cycle for precious metals prices. See why you should be investing in the penny stock mining companies rather than the big players and how to find the best stocks.
Check out the investor presentation for Silver Dollar Resources, CSE: SLV | OTCQB: SLVDF
https://silverdollarresources.com/index.php/investors
Gold was up 23% last year and is now nearly double its 20215 low. Silver jumped 53% last year and analysts at Citigroup are forecasting prices as high as 60% from here. In fact, Goldman Sachs just released a report calling for a new super-cycle in commodities where prices reach higher for years.
There are real fundamental economic forces behind the rise in these precious metals and they need to be in your portfolio. But you can't just invest in any gold mining or silver company. The miners to benefit most will be the smallest, most leveraged penny stock companies. Those wildcat explorers looking for that first big hit.
In this video, I'll show you why you should be investing in silver and gold miner penny stocks and how to find the best out there. I'll then reveal seven penny stocks to watch for your portfolio.
🤑 Get The Daily Bow-Tie – my FREE daily email newsletter sharing market updates, trends and the most important news! Market Updates for the Smart Investor! https://mystockmarketbasics.com/dailybowtie
My Investing Recommendations 📈
📊 Download this Portfolio Tracker and Investing Spreadsheet! [Community Discount Code] https://mystockmarketbasics.com/spreadsheetdiscount
Check out the stock simulator and Get a FREE share of stock worth up to $1000 when you open a Webull investing account with a $100 deposit! 🤑 https://mystockmarketbasics.com/webull
Follow the 2021 Bow Tie Nation portfolio on Stockcard and get a special 10% discount with promo code: bowtienation https://mystockmarketbasics.com/stockcarddiscount
Free Webinar – Discover how to create a personal investing plan and beat your goals in less than an hour! I'm revealing the Goals-Based Investing Strategy I developed working private wealth management in this free webinar. Reserve your spot now! https://mystockmarketbasics.com/free-investing-webinar
SUBSCRIBE to create the financial future you deserve with videos on beating debt, making more money and making your money work for you. https://peerfinance101.com/FreeMoneyVideos
Joseph Hogue, CFA spent nearly a decade as an investment analyst for institutional firms and banks. He now helps people understand their financial lives through debt payoff strategies, investing and ways to save more money. He has appeared on Bloomberg and on sites like CNBC and Morningstar. He holds the Chartered Financial Analyst (CFA) designation and is a veteran of the Marine Corps.
This video was conducted on behalf of Silver Dollar Resources, and was funded by Gold Standard Media LLC. All opinions and analysis are those of the creator and not influenced by sponsorship. For our full disclaimer, please visit: https://www.goldstandardir.com/silver-dollar-disclaimer-40/