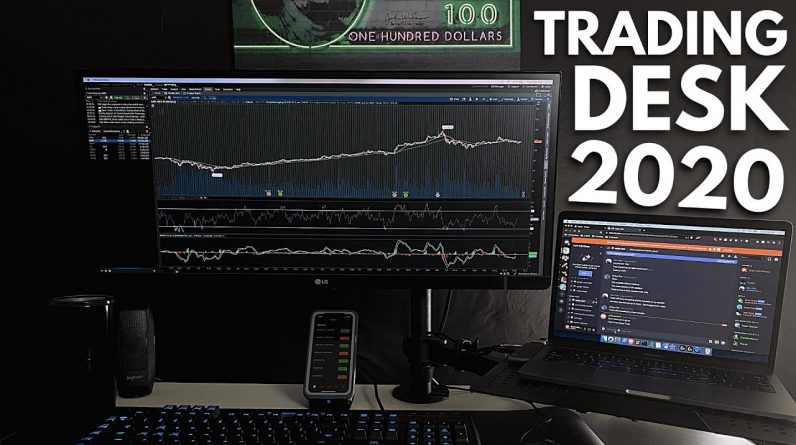 Let me give you a tour of the DESK SETUP that I use as a FULL-TIME TRADER in the STOCK MARKET! Today, I'll give you a rundown on everything on my desk, from the computer that's running it, to the peripherals that I use, and my HUGE ultrawide monitor.
🔗 LINKS 🔗
📈 Patreon: Join my Patron list for live trade alerts, one-on-one consulting, & much more!
https://patreon.com/everythingoptions
🗣 Discord: Join my FREE, active Discord with over 3,000 members!
https://discord.gg/A7VHNFk
🧠 Options Trading Tutorials Playlist:

🤑 Robinhood: Sign up for Robinhood using my referral code to get 1 free stock!
https://join.robinhood.com/gregorm466
🛒 Amazon Product Links:
13″ Macbook Pro: https://amzn.to/37QZXB7
Purgo USB-C Hub: https://amzn.to/31QbQ6r
Logitech G910 Keyboard: https://amzn.to/34GtITr
Logitech G502 Mouse: https://amzn.to/2G7Z7EC
YSAGi Desk Pad: https://amzn.to/2HPSk2M
Anker Standing Wireless Charger: https://amzn.to/3jFnVBB
LG 29-Inch Ultrawide Monitor: https://amzn.to/2JhLSCG
VIVO Monitor/Laptop Mount: https://amzn.to/3e9MzJK
Logitech Stereo Speakers: https://amzn.to/2TA5yU7
📱 Social Media:
Instagram: @gregtalksmoney
Twitter: @gregtalksmoney
TikTok: @gregtalksmoney
📄 Video Description 📄
Running this rig, at the heart of my day trading desk setup, my computer of choice is a 2018 13″ MACBOOK PRO. This laptop has an 8th gen i5 quad-core processor, 256GB of SSD storage, and 8GB of RAM. While it may be underpowered, it's very capable of completing all the tasks I throw at it. The only problem I have with this MacBook is the lack of RAM which is necessary to run Thinkorswim since it's a very memory intensive application.
Another issue you may run into when buying a new Macbook is needing a USB-C dongle. I ended up going with the PURGO USB-C HUB since it has all the ports I need, including an HDMI connection, a Thunderbolt 3 port, a USB-C port, a micro and regular size SD card reader, and 2 USB 3.0 ports. Connected to my USB ports are my mouse and keyboard.
The keyboard that I'm using is the LOGITECH G910 which is a gaming keyboard, it's not specific to my needs, but the media keys and the num-pad are a nice cherry on top. This keyboard is a behemoth though, taking up a quarter of my entire desk! Next to it I have a LOGITECH G502 MOUSE which is another gaming piece that has adjustable DPI and my favorite, an infinite scroll wheel. I have been thinking of switching over to the Logitech MX Master since it would better suit my needs.
Underneath my mouse, I have a YSAGi DESK PAD to keep it from scratching, and to protect it from my notorious coffee stains! Behind my desk mat I have an ANKER STANDING WIRELESS CHARGER which comes in handy to keep my phone charged while still being able to use it to make trades.
Above that, at the center of my day trading desk setup, I have an LG 29-INCH ULTRAWIDE MONITOR which is super useful in allowing me display up to 6 stock charts at one time. Holding up my ultrawide monitor, I have a VIVO MONITOR & DESKTOP MOUNT giving me a dual-monitor setup which is great for being able to watch the stock charts while still being able to keep up with my Discord (Linked above and in a pinned comment below!)
Holding everything up, I have an Ikea 34×23″ Linnmon table on top of Adils legs which cost me just $20 in store. Overall, this day trading desk setup cost me $2300 and most of this was spent on the MacBook Pro coming in at $1799. Everything else comes out to around $500 which I found to be nicely affordable!
I am planning to make a few upgrades to my day trading desk setup by adding a USB-C Mic possibly for live streaming my trading sessions. Let me know what you think of that in the comments below, would you like to see me trade live?
🏷 TAGS 🏷
trading desk setup,day trading desk setup,trading setup,day trading setup,affordable trading setup,budget trading setup,trading setup 2020,day trading setup 2020,day trading desk setup 2020,trading desk setup 2020,trading desk,desk setup,desk setup 2020,affordable desk setup,trading setup at home,best trading setup,best trading setup 2020,best day trading setup,best day trading setup 2020