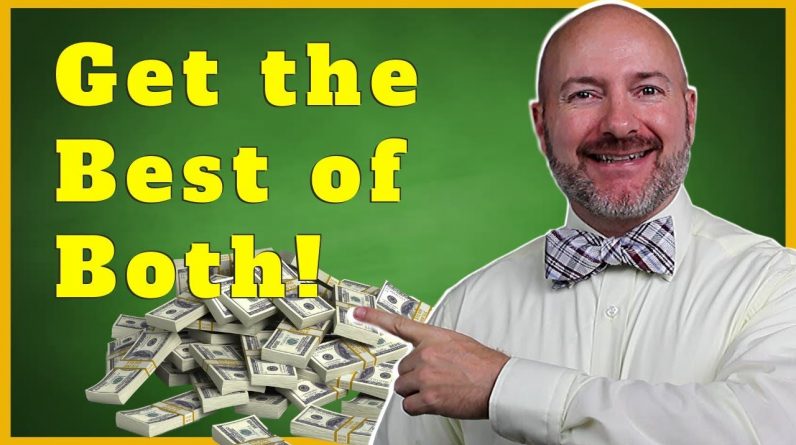 Which is best for cash flow, dividend stocks vs ETFs? Which is going to provide you with the highest dividend yield plus the return you need to grow your portfolio?
In this video, we'll compare investing in individual stocks vs exchange traded funds (ETFs). I'll start with a quick definition of stocks and ETFs, then discuss the pros and cons of investing in each. I'll then show you which is better for dividend investors and two strategies that will help you get the best of both worlds.
Whichever you decide, get a free share of stock when you open an account on Webull 🤑 https://mystockmarketbasics.com/webull
I love picking stocks but there are a lot of benefits to just choosing a good ETF and not worrying about your money. ETFs hold dozens and even hundreds of stocks s you get instant diversification and a stress-free investing style.
But you get no control over that group of stocks in a fund and have to pay a fee on money invested. Individual stocks will usually produce a higher return and a higher dividend yield as well. The downside to that diversification in an ETF is that the losing stocks drag down the winners so your return and dividends aren't what they could have been.
There is a solution though; a way to beat the dividend stocks vs ETFs problem. You could try to create your own fund by picking 10-15 of the individual stocks in the fund. That will give you the upside return potential but still some diversification. You can also try the core-satellite strategy where you invest in both funds and stocks. It's a great passive investing strategy for all the benefits of index investing and stock-picking.
Check out this video for my five-fund portfolio, a simple investing strategy of five Vanguard funds that gives you access to stocks, bonds and real estate. https://youtu.be/hoh1IhRjlGg
Dividend stock investing shouldn't be complicated. Understand how to use exchange traded funds as part of your investing strategy for returns and safe cash flow.
2:00 What is the difference between stocks and ETFs?
3:15 Pros of investing in individual stocks
4:19 Cons of investing in individual stocks
5:55 Pros of investing in exchange traded funds
6:57 Cons of investing in ETFs
8:45 Which is better for cash flow, dividend stocks vs ETFs?
9:28 Two strategies to invest in both stocks and ETFs
Join the conversation in our private Facebook Group!
https://www.facebook.com/groups/3083628104983203/
Join the Let's Talk Money community on Instagram! https://www.instagram.com/lets_talk_money_josephhogue/
My Investing Recommendations 📈
📊 FREE download – the 5 Sites and Resources I use to invest https://mystockmarketbasics.com/myinvestingtools
Download this Portfolio Tracker and Investing Spreadsheet! [Community Discount Code] https://mystockmarketbasics.com/spreadsheetdiscount
Free Webinar – Discover how to create a personal investing plan and beat your goals in less than an hour! I'm revealing the Goals-Based Investing Strategy I developed working private wealth management in this free webinar. Reserve your spot now! https://mystockmarketbasics.com/free-investing-webinar
SUBSCRIBE to create the financial future you deserve with videos on beating debt, making more money and making your money work for you. https://peerfinance101.com/FreeMoneyVideos
Joseph Hogue, CFA spent nearly a decade as an investment analyst for institutional firms and banks. He now helps people understand their financial lives through debt payoff strategies, investing and ways to save more money. He has appeared on Bloomberg and on sites like CNBC and Morningstar. He holds the Chartered Financial Analyst (CFA) designation and is a veteran of the Marine Corps.
#dividendstocks #dividends #investing