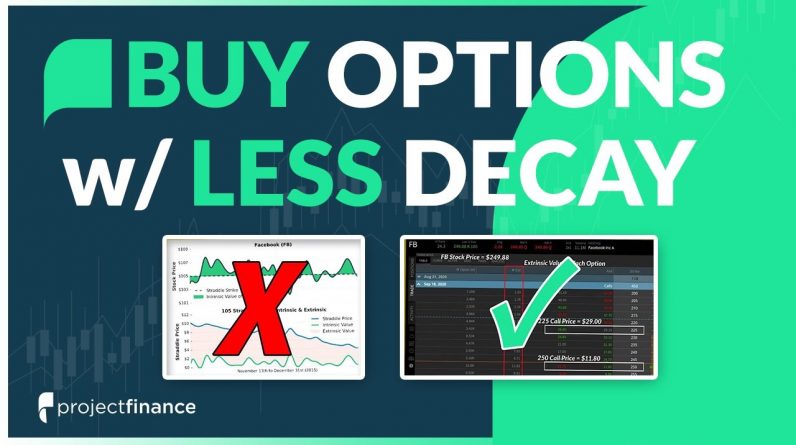 When buying options, time is working against you because you lose the extrinsic value in the option as time passes and as expiration gets closer. At expiration, only intrinsic value will remain.
When shorting options, time is working in your favor because you profit from the decay of extrinsic/time value in the options as time passes.
But just because time works against you when buying options, it doesn't mean you should abandon option-buying altogether.
In this video, I'll share three approaches you can use to minimize the exposure to time decay that you'll experience when buying options, at least when initially entering your position.
Video Timestamps
0:00 – Introduction
0:53 – Method #1 (Basic But Expensive)
4:40 – Method #2 (Take Advantage of Earnings: Limited-Time Only)
6:41 – Method #3 (Most Flexible)
7:36 – Debit Spread Structure #1 (Minimal Extrinsic Value Decay)
10:44 – Debit Spread Structure #2 (Positive Decay/Theta)
Please let me know in the comments if you have any questions about this video, or just want to show some love (or hate 😐).
==== ADDITIONAL RESOURCES / VIDEOS MENTIONED ====
My 2nd YouTube Channel (Finance/Investing/Other): https://www.youtube.com/channel/UCQIPHXnm7ODW0HAdfCr1yDw @Chris Butler
Options Trading for Beginners (The ULTIMATE Guide): https://youtu.be/7PM4rNDr4oI
=== TASTYWORKS Course Offer ===
Get one projectoption course for free when you open and fund your first tastyworks brokerage account with $2,000 or more: https://www.projectoption.com/free-options-trading-course/
Learn More About tastyworks: https://www.projectoption.com/tastyworks/