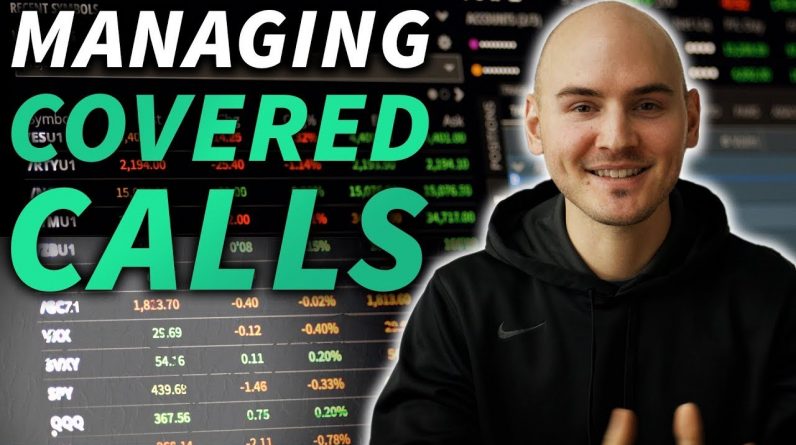 Get $500 AND our exclusive options trading course when you open and fund your first tastyworks brokerage account with $10,000 or more: https://bit.ly/3BdPv2p
If you're looking to generate income and hedge against declines in the stock market, then trading covered call positions might be for you. In this video, I'll teach you a few ways of managing covered call trades.
Covered calls do not require active management, as they don't add any risk to an existing stock position of 100 shares. But there are ways that you can strategically manage positions depending on how the stock price moves.
0:00 Introduction
0:12 Video Topics
0:48 Trade Example #1: Bearish Stock Price
3:08 ALWAYS Manage Your Trade in This Situation
4:34 Trade Example #2: Neutral Stock Price With a Surprise
7:32 Trade Example #3: Bullish Stock Price
8:52 If You Get Assigned on the Short Call… (Do Not Fear!)
9:53 Exiting Covered Calls in a Bull Run
13:14 Trade Example #4: Up & Down Stock Price
17:11 Assessing Early Assignment Risk
19:23 Visually Analyzing Early Assignment Risk
23:48 tastyworks Brokerage
The #1 way to manage covered call positions is to buy back the short call when it nears the maximum profit potential. By doing so, you'll secure the maximum benefit the short call offers while removing the risks of holding a short option.
In other situations, management largely depends on the specific stock price movements (and how quickly they happen). Of course, you can always do nothing and not actively manage trades at all! But hopefully, the ideas presented in this video will help steer you in the right direction if you want to actively manage your options trades in the future.
== Recommended Resources/Videos ==
➥ Why Options Are Rarely Exercised (You MUST Know This!): https://youtu.be/PsZsqiBFnmo
➥ Options Trading for Beginners (The ULTIMATE Guide): https://youtu.be/7PM4rNDr4oI
➥ Vertical Spreads for Beginners (The ULTIMATE Guide): https://youtu.be/mwttDWfDQ9c
=== Preferred Brokerage ===
I use the tastyworks brokerage platform for my stock/options trading (or simply investing in stocks long-term). Why? They have incredible commission rates for active options traders, free stock trading, and easy-to-use software without overly complex functionality.
➥ Learn More About tastyworks: https://www.projectoption.com/tastyworks/