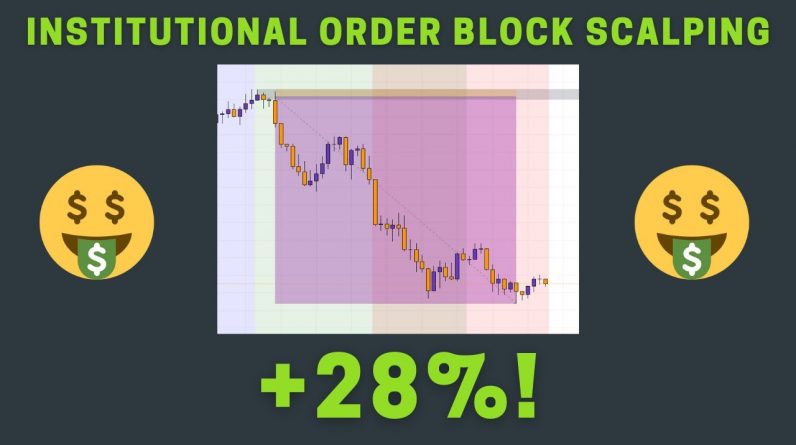 Welcome to my forex channel! Where I cover forex smart money concepts and my order block trading/scalping strategy!
In this video, I go over a quick forex scalp I took on GBPUSD. I used a lot of confirmations for this intraday forex trade. I used an orderblock on the 15 minute chart, that absorbed liquidity in the Asian session then broke structure, as my point of interest. I then waited for price to return to this area on the 1 minute chart, and ended up using an orderblock on the 3 minute chart for my entry. This allowed me to have a really tight stop loss and get a high risk-to-reward trade!
When scalping, I like to take off half of my position at 1:3, and trail my stop for the other half of the position behind market structure.
This trade ran to 28% in total (if you got out at the right moment of course)… By taking partials, I managed to secure about 12% gain on my account.
If you enjoy this video, please subscribe to my channel to see all my future content! http://www.youtube.com/channel/UCX5GYKWpquBQWl4z_pBedVQ?sub_confirmation=1
If you are interested in an institutional forex scalping strategy video, let me know in the comments below!
I am a beginner forex trader, if you would like to learn more about the concepts I discussed in this video, I would recommend watching the channels: mentfx, MoreHarrisonUwah, Pips of Persia, MahadFX and SlayBuddhaFX. They all have amazing content that covers institutional order flow, Wyckoff and imbalance.
Understanding smart money concepts in forex will help you breakthrough from trading like a retail trader, and become part of the 5% who are profitable trading forex! Concepts like these are also great for taking the FTMO funding challenge!
If you would like to see more Forex content from me, please drop a like and subscribe to my channel, and leave any suggestions in the comments below!
Please note: the content of this video is intended as entertainment and should not be taken as financial advice. Trading forex and other financial securities such as Gold (XAUUSD) is extremely risky and you should do your own due dilligence.