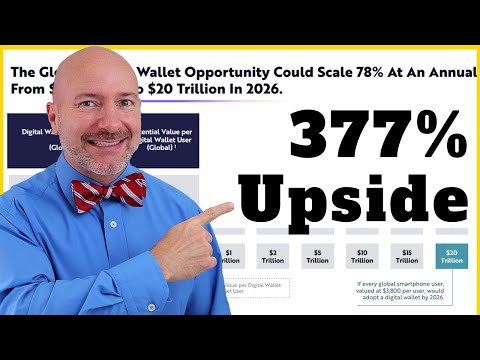 PayPal stock price is crashing but could be worth as much as 5X more. I'll show you a complete PYPL stock analysis with price predictions and what the market doesn't see. This is a PayPal stock price forecast you can't afford to miss!
Follow these and all the stocks in our 2021 Bow Tie Nation portfolio on Stockcard. Use promo code bowtienation for a special discount beyond the free trial! https://mystockmarketbasics.com/stockcarddiscount
With the ridiculous drop in the shares, down 25% in a single day this month and 63% from its 52-week high, a lot of you have been asking if I'm still bullish on the stock . In fact, I own 200 shares of PayPal at an average price of $150 a share or about a $30,000 investment and it's one of the largest holdings in my portfolio.
In this video, I'll show you a complete analysis for PayPal stock including detail on how the company could be on the verge of a $20 trillion opportunity. I'll then reveal PayPal price targets from analyst and my own to show you exactly why I'm still holding the shares.
PayPal is quickly becoming everything you need in digital finance. It enables retailer payments through the BrainTree acquisition, allows you to send money internationally with Xoom, helps people with saving and couponing with its Honey app, offers bill pay and direct deposit as well as a high-yield savings account through a partnership with Synchrony. Bring this all together with the Venmo digital wallet and you could conceivable handle every financial transaction through the PayPal ecosystem.
Check out all the videos in our 2022 Big Ideas playlist! Breaking down the best research on long-term trends and how to invest!
Will bitcoin really go to $1,000,000? See my analysis here! https://youtu.be/xMLpu0UyOtA
And that's a bigger opportunity than the market realizes just yet. Use of digital wallets passed cash last year in offline sales and have been the dominant payment form in ecommerce since 2017. You see the rise of digital wallets in the purple line in the two charts here, ecommerce on the left and offline Point-of-Sales volume on the right. Digital wallets are now used in 45% of all ecommerce purchases and nearly one-in-three offline purchases.
PayPal is currently trading for a price of 5.4-times the sales it's booked over the last year, extremely low against a five-year average of 8.9-times and a prior low of 6.8-times sales back in 2018. If we look at analyst estimates, we have 35 analysts covering the stock and an average target of $182 per share. Now that's a one-year average target so about 64% return on the stock and 25 of the analysts have buy ratings on PayPal.
0:00 PayPal Stock Analysis
1:27 PayPal Business Model
2:59 PYPL Fundamental Stock Analysis
4:35 Why is PayPal Stock Price Falling
6:58 What the Market Doesn't See about PYPL Stock
9:33 PayPal Stock Price Prediction
11:55 Analyst PYPL Stock Price Forecasts
12:30 How Much is PayPal Stock Worth?
🤑 Get The Weekly Bow-Tie – my FREE weekly email newsletter sharing market updates, trends and the most important news! Market Updates for the Smart Investor! https://mystockmarketbasics.com/dailybowtie
My Investing Recommendations 📈
Check out the stock simulator and Get a FREE share of stock worth up to $1000 when you open a Webull investing account with a $100 deposit! 🤑 https://mystockmarketbasics.com/webull
📊 Download this Portfolio Tracker and Investing Spreadsheet! [Community Discount Code] https://mystockmarketbasics.com/spreadsheetdiscount
Free Webinar – Discover how to create a personal investing plan and beat your goals in less than an hour! I'm revealing the Goals-Based Investing Strategy I developed working private wealth management in this free webinar. Reserve your spot now! https://mystockmarketbasics.com/free-investing-webinar
₿ Get up to $250 in free bitcoin when you open an account on BlockFi and earn interest up to 7.5% https://mystockmarketbasics.com/blockfi
SUBSCRIBE to create the financial future you deserve with videos on beating debt, making more money and making your money work for you. https://peerfinance101.com/FreeMoneyVideos
Joseph Hogue, CFA spent nearly a decade as an investment analyst for institutional firms and banks. He now helps people understand their financial lives through debt payoff strategies, investing and ways to save more money. He has appeared on Bloomberg and on sites like CNBC and Morningstar. He holds the Chartered Financial Analyst (CFA) designation and is a veteran of the Marine Corps.