Today, we are doing a Stock Rover review.
We will take a look at the features, pricing and discuss who the platform will benefit.
Contents
Introduction
Overview of Stock Rover
The Features
Plans
Who Is Stock Rover For?
Concluding Remarks
Introduction
There are many stock screeners available to investors.
These help people look at the fundamentals of companies and make informed decisions on what assets they want to hold.
One such screener is called Stock Rover.
This article will provide an overview of their platform and discuss whether or not it is helpful as an investment tool.
Overview of Stock Rover
Stock Rover is a web platform that allows investors to screen for stocks based on numerous qualitative factors.
As their site states.
"Stock Rover is a powerful investment research and analysis tool that goes well beyond what investors are used to from existing equity research sites… If you use Yahoo Finance, MSN Money, your brokerage company's website, or any other financial sites for investment research, you owe it to yourself to check out Stock Rover."
The idea of Stock Rover is to provide a more comprehensive equity screener than most free scanners online.
All with a user interface that is easy to use for the average investor.
The Features
Scanning
Stock Rover starts with a comprehensive screening database.
With over 500 different screenable metrics, there are no shortage of other qualitative factors that you can use to get started on your scan.
To scan for stocks, you need to create a new screen and then add the criteria you would like to scan.
Overall, it is pretty simple and reminds me of the free screener on investing.com, albeit with more features.
The scanner also has a section called Guru Strategies.
In this section, you can use a predetermined scan to find stocks fitting that individual's strategy or indicator.
A few examples of this are the Piotroski F-Score, Shiller PE, and Sloan ratio.
If you are unsure of what you should be scanning for, these are good places to start.
Charting
Once you have completed your scan, you have a list of stocks that meet your given criteria. Yet, how do you know if these criteria are any good?
One way of answering this question by seeing how the screened equities have performed historically vs. a benchmark.
This is extremely easy to do with the software.
Once you have created a screen, all you need to do is click on the chart function to have a portfolio compared against the benchmark.
Here is what it looks like with a simple screen below.
I ran some qualitative screeners, and voila!
The backtest is in blue, and the SPY index is in green.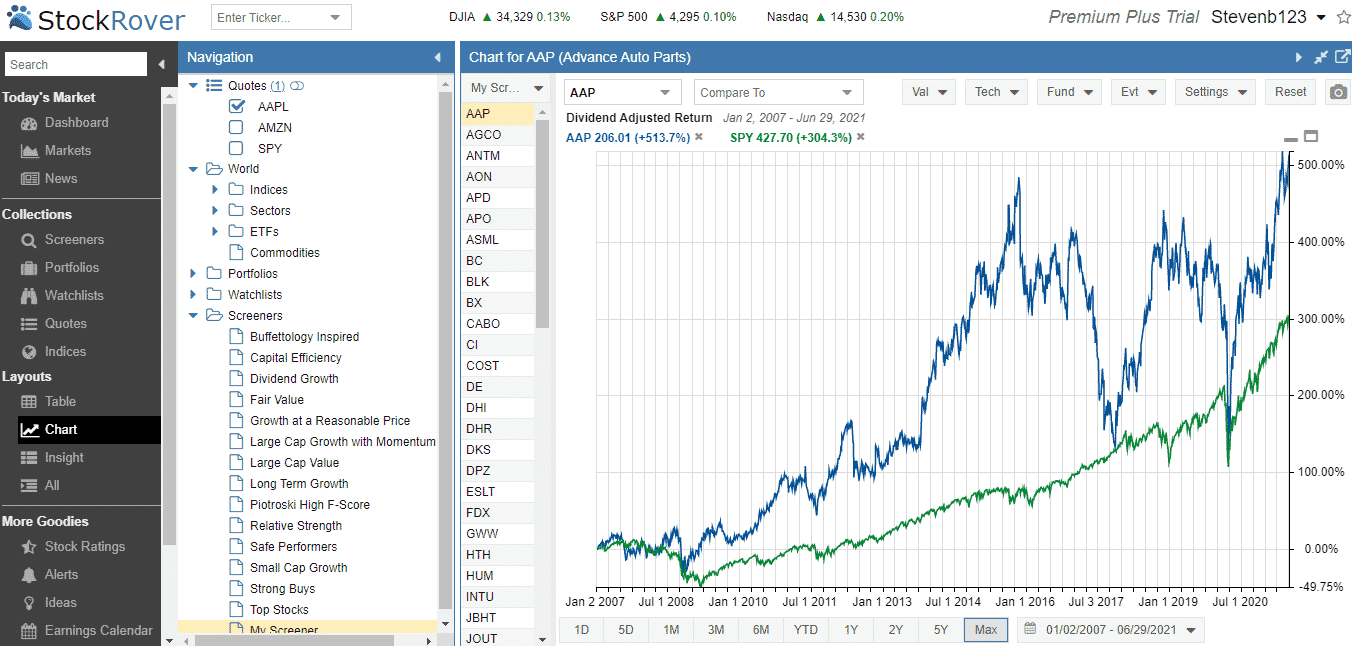 < Check Out Stock Rover Pricing Plans >
This backtest lets me see a few things.
You can see the volatility of the portfolio.
In this case, it is easy to see that our stocks have a high beta. We also see the outperformance of our screened portfolio vs. the index.
The backtester is very cool but be aware of the limitations.
For example, one of the criteria I made for the scan was increasing yearly dividends.
Hence, I already removed stocks that paid dividends but then suspended or failed to increase them.
I am already data mining.
Best of Options Trading IQ
Therefore, forward results for this portfolio should be far more muted than prior results.
Regardless, it is a very cool feature to play around with after you have made different scans.
Stock Ratings
In the stock ratings sections, traders can dive into a financial analysis of a company.
An overall company score is provided, with a breakdown of many different factors such as valuations and financial strength.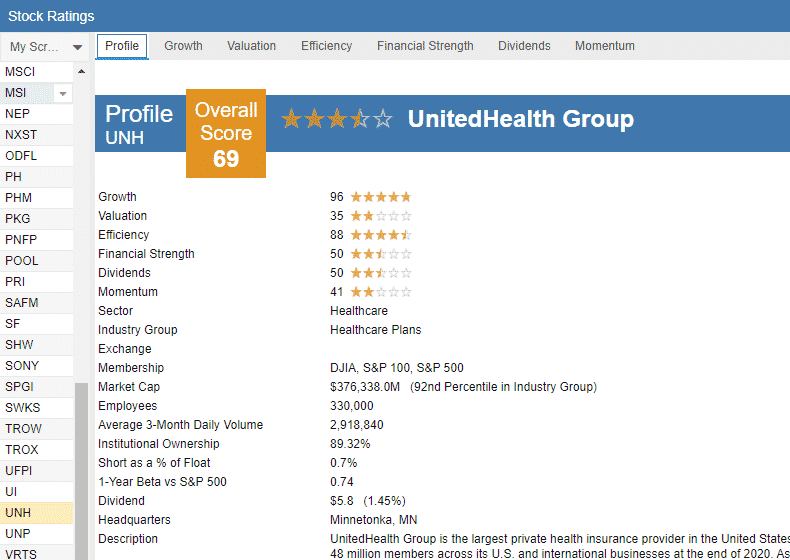 The score is pretty helpful though I am unsure if something simplistic like buying companies with high scores and selling companies with low scores leads to any excess level of returns.
I also found the dividend section exciting and a lot faster than looking elsewhere to get an idea of how the dividend has changed over time.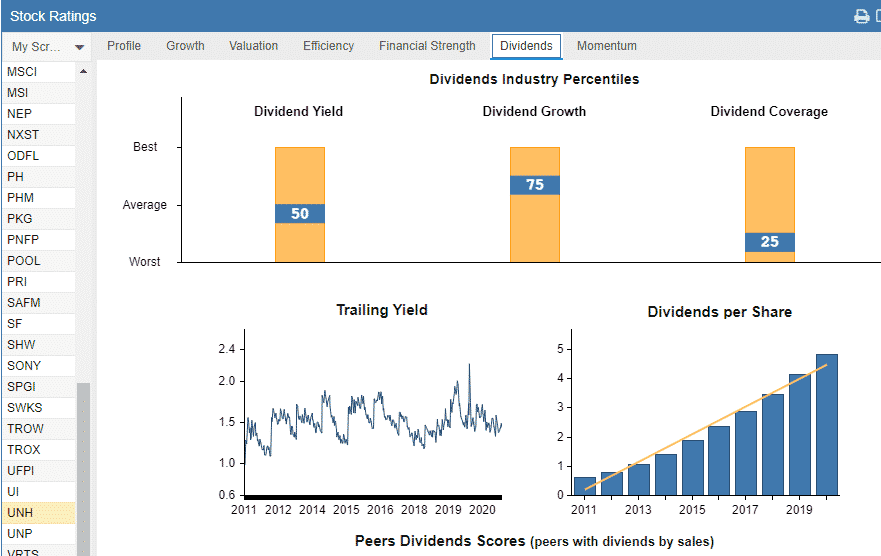 Note** The ratings section is unavailable for the Basic and Essential plans.
Stock Rover Review Video:

Plans
Stock Rover has a free plan with some relatively reasonable access to most sections of the website.
They also have three paid plans, as shown below.

There are a ton of minor differences between the three paid versions.
Though for most users, either the basic free plan or the essentials will suffice.
If you would like to try the premium plan, you are in luck as they offer a 14-day free trial version to try it out for yourself.
Who is Stock Rover For?
While Stock Rover is a valuable site, it is not for everyone.
For example, if you are trading on other indicators that are not qualitative, fundamental factors, it has no use.
Additionally, if you have a trading strategy based on a few simple fundamentals, such as P/E ratio, you can set up a screener almost anywhere.
That being said, there is value in looking at the lesser followed fundamentals.
Stock Rover can be a big help in designing a long-term passive portfolio made up of fundamentally sound companies.
Arguably you could do this after the trial and do not need to pay for the product long term.
The only thing you would need to do in this case is making sure your companies stay performing well and run a rebalancing every so often.
Concluding Remarks
Overall, I found Stock Rover a very intuitive and easy to use piece of software.
The screeners are very comprehensive, and the charting software is nice and easy to use.
Easy for someone who is not naturally tech-savvy.
For fundamental investors looking to design longer-term portfolios, it is worth a look to help you decide which companies to buy.
Trade safe!
Gav.
Disclaimer: The information above is for educational purposes only and should not be treated as investment advice. The strategy presented would not be suitable for investors who are not familiar with exchange traded options. Any readers interested in this strategy should do their own research and seek advice from a licensed financial adviser.

Advertising disclosure:
All opinions expressed are our own. We may receive compensation from some of our partner brands in this article. However, we only promote brands we trust and have personally used.
The post Blog first appeared on Options Trading IQ.
Original source: https://optionstradingiq.com/stock-rover-review/