Have you ever wondered about stock tickers that are words? We found 39.
Contents
That Makes Sense
However
Speaking Of Animals
Okay, I Get It
Oh, I See.
REITs.
Body Parts.
What Do They Sell?
Founded By Students
Useless Trivia
And Finally,
Okay, no more talks about math or the Greeks this time.
I'll give your thinking cap a break.
Kick back and enjoy the light read over a glass of wine, and you might learn a few interesting tidbits about some companies you've never heard of.
That Makes Sense
Let's start with the easy ones because their symbol tells us precisely what the companies do, making them easy to remember.
POOL (Pool Corp) builds swimming pools.
SHOP (Shopify) makes shopping software.
CAR (Avis) provides rental cars.
However:
DECK (Deckers) doesn't build decks but shoes.
KEY (KeyCorp) doesn't provide keys to your lockbox but offers financial services.
BOX (Box Inc) doesn't make boxes but document management software.
LOVE (Lovesac) is not a dating service but sells bean bag chairs.
SKY (Skyline Corp) is not in the airline industry but the mobile homes business.
DISH (DISH Network) is not involved with gourmet dish meals or dinnerware, but satellite dishes that bring shows like "Animal Planet" into your homes.
Speaking Of Animals
CAT and DOG are animals, but these have nothing to do with pets.
CAT (Caterpillar) makes bulldozers.
And DOG is not even a company.
It is the ProShares ETF that shorts the Dow index.
Another ticker word that you might be more familiar with is SPY, the S&P 500 ETF.
While FANG (Diamondback Energy) is active in energy exploration, PEG (Public Service Entertainment Group) debates energy policy.
While IT (Gartner Inc) provides objective insights to executives, PATH (Uipath Inc) provides artificial intelligence into robots.
Okay, I Get It.
TASK (TaskUs Inc) provides outsourced digital services.
If your company needs a task to be done, TASK can find someone for you.
OPEN (Opendoor) provides online real estate sales.
Instead of an open house, open-door.
Yes, I get it.
NET (Cloudflare) makes InterNET applications secure and fast.
Oh, I See.
SNOW (Snowflake) makes databases.
Why?
According to their blog, there are three reasons why they name their company is named Snowflake.
Snowflakes are "born in the cloud." They make cloud databases, and their tagline is "Inside the Data Cloud." Ha-ha. Good one.
Most of the founding team members like to ski in the snow.
Each Snowflake is unique and "has exactly the right resources to fit the unique needs of each set of your users." Nice marketing.
REITs.
Seem like many real estate investment trusts like to come up with word-like ticker symbols.
For example, PEAK (Healthpeak Properties), CUBE (Cubesmart), CONE (CyrusOne), COLD (Americold Realty), WELL (Welltower), and LAND (Gladstone Land Corp).
Whoever came up with that LAND one must be a genius.
Body Parts.
LUNG and LEG are body parts.
LUNG (Pulmonx) makes medical devices to treat chronic lung disease.
That makes sense.
LEG (Leggett & Platt) makes high-end adjustable beds so that you can rest your leg.
It was founded when J.P. Leggett developed a new type of bedspring and formed a partnership with his brother-in-law, C.B. Platt.
Not sure why they both go by initials instead of first names.
What Do They Sell?
MET (Metlife) and ALL (Allstate) sell insurance.
CALM (Cal-Maine Foods) sells eggs.
FIVE (Five Below) sells kids' accessories, some of which are below five dollars.
And SEE (Sealed Air Corp) sells bubble wraps.
Yes, it's true.
Founded By Students
HOOD (Robinhood) is known for its commission-free investing, founded by two physics students from Stanford University: Baiju Bhatt and Vladimir Tenev.
Robinhood is legit but has its controversies, which we wrote about previously.
HUBS (Hubspot) was founded by Brian Halligan and Dharmesh Shah, two graduate students at MIT (Massachusetts Institute of Technology).
That's why their corporate headquarters are in Cambridge, Massachusetts.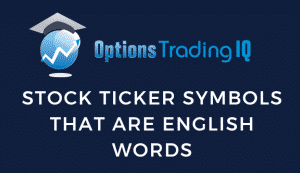 Useless Trivia
LOW (Lowe's) first store in 1921 was named North Wilkesboro Hardware.
Lucius Smith Lowe opened it in North Carolina.
When he died in 1940, it was inherited by his daughter Ruth Buchan.
Apparently, she didn't want to operate a hardware store, so she sold it to his brother James Lowe that same year.
Now Lowe's operates 2,197 home improvement and hardware stores in North America and celebrated its 100th-anniversary last year.
Lowe expanded at an average rate of about 22 new stores per year by doing some quick math.
Oops.
I mentioned that I wasn't going to talk about math in this article.
Sorry.
I'll try to keep my promise of not talking about Greeks.
Instead, I'll talk about Swedes.
While SPOT (Spotify) is quite a popular music streaming service in the United States, it was founded by two Swedes, Daniel Ek and Martin Lorentzon, and is headquartered in Stockholm, Sweden.
SPOT is currently is part of the Russell 1000 index.
In 2015, STEP (StepStone Group) leased the 17th floor of the "Lipstick Building" for its Manhattan, New York office.
This was the same office where Bernie Madoff had operated his Ponzi scheme previously.
The office building is known as the Lipstick Building because it looked like a stick of lipstick.
MA (Mastercard) has one of the world's most recognizable logos.
However, slight modifications were made over the years.
The basic logo consisting of overlapping red and orange circles was conceived by Robert Leavelle, Senior Vice President of Farmer's and Merchants Bank of Long Beach, and his son.
And Finally,
BILL and KIM are not really words, but names of people.
BILL (bill.com) makes cloud software, and KIM (Kimco) owns real estate.
There you have 39 words and two names that you can punch into your charting software and pull up a candlestick chart.
Maybe one will pop up with the setup you are looking for.
Trade safe!
Disclaimer: The information above is for educational purposes only and should not be treated as investment advice. The strategy presented would not be suitable for investors who are not familiar with exchange traded options. Any readers interested in this strategy should do their own research and seek advice from a licensed financial adviser.

Original source: https://optionstradingiq.com/stock-tickers-that-are-words/