The iron condor is the most popular direction neutral options strategy. It is great to use them on indices. But what are the best iron condor stocks?
When used on stocks, there are certain characteristics of the underlying that we look for that make them more suitable for iron condors.
Contents
Price
Bid-Ask Spread
Beta
The list
Conclusion
Price
We like to sell iron condors with the short strike between 10 to 15 delta.
Low-price stocks that cost $20 per share do not have a good selection of strike prices available that far out of the money.
Therefore, we run iron condors on underlyings with a price above $100 per share.
These have more strike selections at those deltas.
Bid-Ask Spread
Because iron condor consists of four options, we may need to buy and sell multiple options as we make adjustments.
Each option has a bid price, and an ask price.
We want the difference between these two prices (known as the bid-ask spread) to be small.
Market makers would like to sell options to us at the ask price and buy it from us at the bid price so that they can pocket the difference.
Yes, we can "negotiate" with them by requesting to be filled only at a specific price, such as close to the mid-point.
Nevertheless, we still like tight bid-ask spreads to avoid losing too much every time we buy and sell.
When bid-ask spreads are tight, we say that the underlying is "liquid" with many buyers and sellers.
We should have no problem getting into and out of these options (even far out at the five deltas ranges).
We look at the monthly expiration cycle's at-the-money strikes that are about 30 days out till expiration to judge the spreads.
A good bid-ask spread for a $100-priced stock is around $0.10. Higher price stocks will naturally have wider bid-ask spreads.
So a spread around about one-tenth of one percent of the stock price is good.
This selection does not need to be an exact and hard rule because the spread width will depend on the volatility of the market and the underlying at the time.
With this selection criteria, our list typically consists of large well-known companies that trade frequently.
Beta
We also don't want stocks that move around too much.
A measure of this price movement volatility is beta.
High-flying exciting stocks such as Telsa (TSLA) and Square (SQ) will not end up on our list because their beta is 1.95 and 2.43, respectively.
A beta of 2 means that the stock is twice as volatile as the market.
These high flyers are probably better for directional credit spreads.
Or, when their credit spreads go in the wrong direction, you can turn them into iron condors by adding an opposing spread.
Nothing wrong with that.
However, for investors interested in establishing an iron condor position from the start, we prefer boring stocks with a beta of roughly 1.00 or less.
The list
Alphabet (GOOGL) – beta 1.00 At the time of this writing, Alphabet Inc (formerly known as Google Inc) has a beta of exactly 1.00, which means that it is not any more volatile nor any less volatile than the overall market.
Nike (NKE) – beta 0.87 Athletic footwear manufacture Nike (NKE) has a beta of less than 1, which indicates that it is less volatile than the market.
When the market moves in one direction or another, Nike statistically should move less than the market.
Moving less is what we want for iron condors.
Eli Lilly (LLY) – beta 0.25 The beta of this healthcare company seems relatively low.
We are getting our "60-month beta" values from barchart.com.
And that's what it says.
The term "60-month beta" refers to the beta value determined using the slope of the 60-month regression line between the stock's price change and the index's price change.
Amazon (AMZN) – beta 1.14 It doesn't mean that we can not trade iron condor on stocks with a beta greater than 1.0. It is not a strict rule.
Sometimes higher beta stock will compensate the investor with high premiums.
So it all balances out. In any case, Amazon, with a beta of 1.14, is not that much more volatile than the market and is certainly acceptable.
Because of its high price,  Amazon is ideal for investors who want to trade larger amounts without using many contracts.
McDonald's (MCD) – beta 0.63 With its first fast-food restaurant established in 1948 in San Bernardino, California, McDonald's has been around for a long time.
Is it likely for its business model and franchise structure to change, that causes its stock price valuation to a lot quickly?
Probably not. Or at least, we want its price to stay about the same during the iron condor trade.
Walmart (WMT) – beta 0.47 Discount retail chain with over 11,000 retail stores across the world.
Is Walmart likely to come out with an innovation that causes its stock price to soar through the roof?
Probably not, and probably not during your iron condor trade.
Visa (V) – beta 0.98 Visa is a global card-payment financial services company used by millions of people worldwide.
Investors can trade on Mastercard (MA) as well, depending on whichever one has price action that looks like it is trading in a range at the time.
The beta of Mastercard at 1.16 is not that much different.
Caterpillar (CAT) – beta 0.9 Manufacturer of construction and mining equipment.
Not very exciting, right? But probably good for iron condors.
3-M Company (MMM) – beta 0.96 Part of the industrial sector, the five founders of the company wanted to mine a mineral that is ideal for making sandpaper and grinding wheels.
Wait.
Don't laugh.
When the price of 3M doesn't move and your iron condor profits simply from the passage of time, then you can laugh on the way to the bank.
Of course, today 3M is doing a lot more than that and is on the Fortune 500's list.
United Health (UNH) – beta 0.77 Here is one in the healthcare sector.
It is always good to run iron condors in various sectors because any one sector may move all the stocks in that sector all at once.
Adobe (ADBE) – beta 0.97 As part of the Nasdaq 100, Adobe makes software that is considered the industry standard for creative professionals.
Pepsi-Cola (PEP) – beta 0.60 This maker of snack foods and Pepsi is a competitor of Coca-Cola (KO).
But Coca-Cola is not on our list because its price is in the $50s and does not have strike prices in small enough increments to work with options in the 10 to 15 delta range.
Netflix (NFLX) – beta 0.76 For investors who want to work with something a bit more modern and exciting, they can try the streaming technology company Netflix.
It still showing a relatively low beta.
Microsoft (MSFT) – beta 0.78 Microsoft is the maker of the Windows operating system, office productivity software, and cloud platform, provider.
Investors who prefer trading Apple (APPL), the maker of the Mac operating system, can do so as well.
Its beta is also acceptable at 1.2.
Salesforce (CRM) – beta 1.09 Headquartered in San Francisco, its Salesforce Tower is the tallest skyscraper in San Francisco, standing 1,070 feet in the financial district.
Johnson and Johnson (JNJ) – beta 0.71 This manufacturer of the popular Johnson and Johnson baby shampoo has a pharmaceutical segment that also manufactures one of the Covid-19 vaccines.
Costco (COST) – beta 1.09 Investors should not take the beta value too seriously.
Because a stock really can do whatever it wants regardless of its beta.
When Costco decided to trend recently, it really trended and outpaced the SPX index by a lot even though Costco's beta is close to 1.
It made a 40% move in 6 months.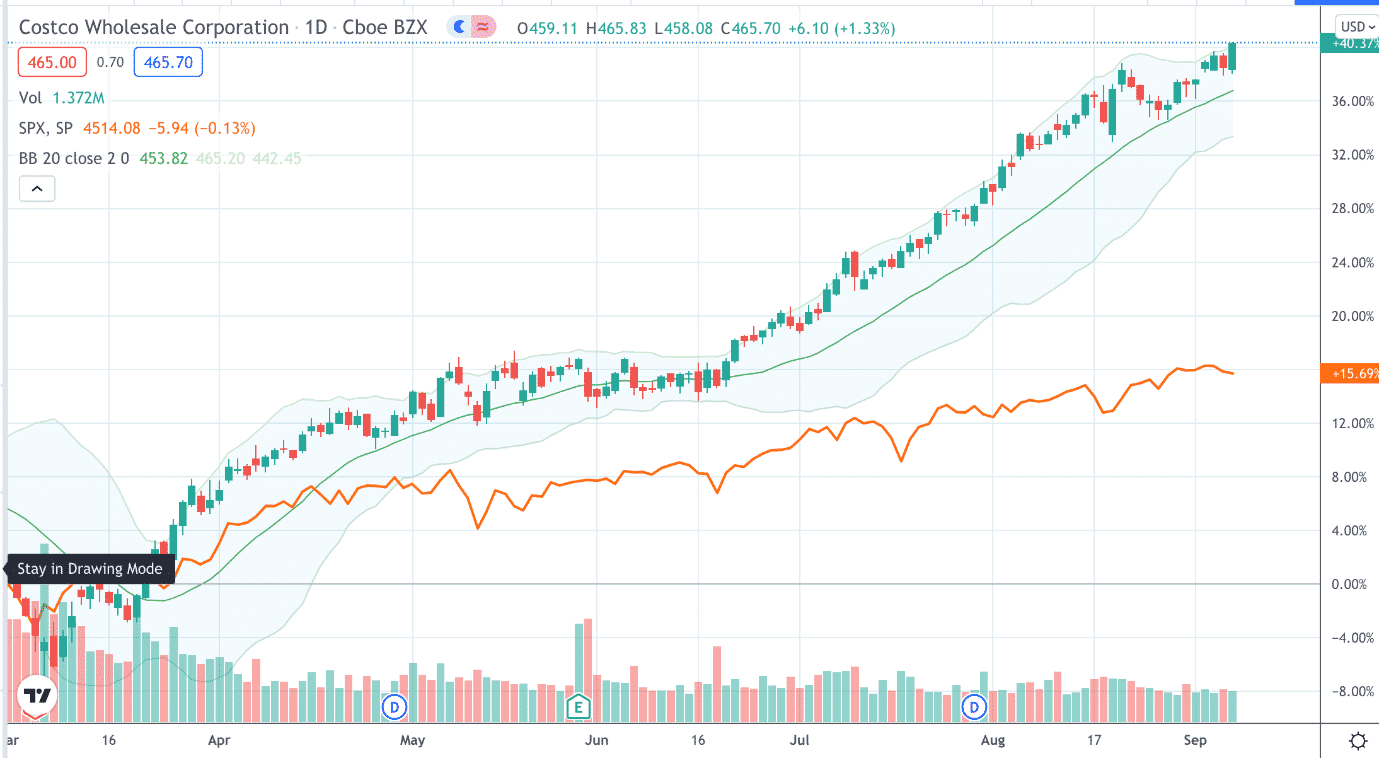 It would not have been an easy time for iron condors in this case.
Broadcom (AVGO) – beta 0.93 A chart like Broadcom recently would have work much better.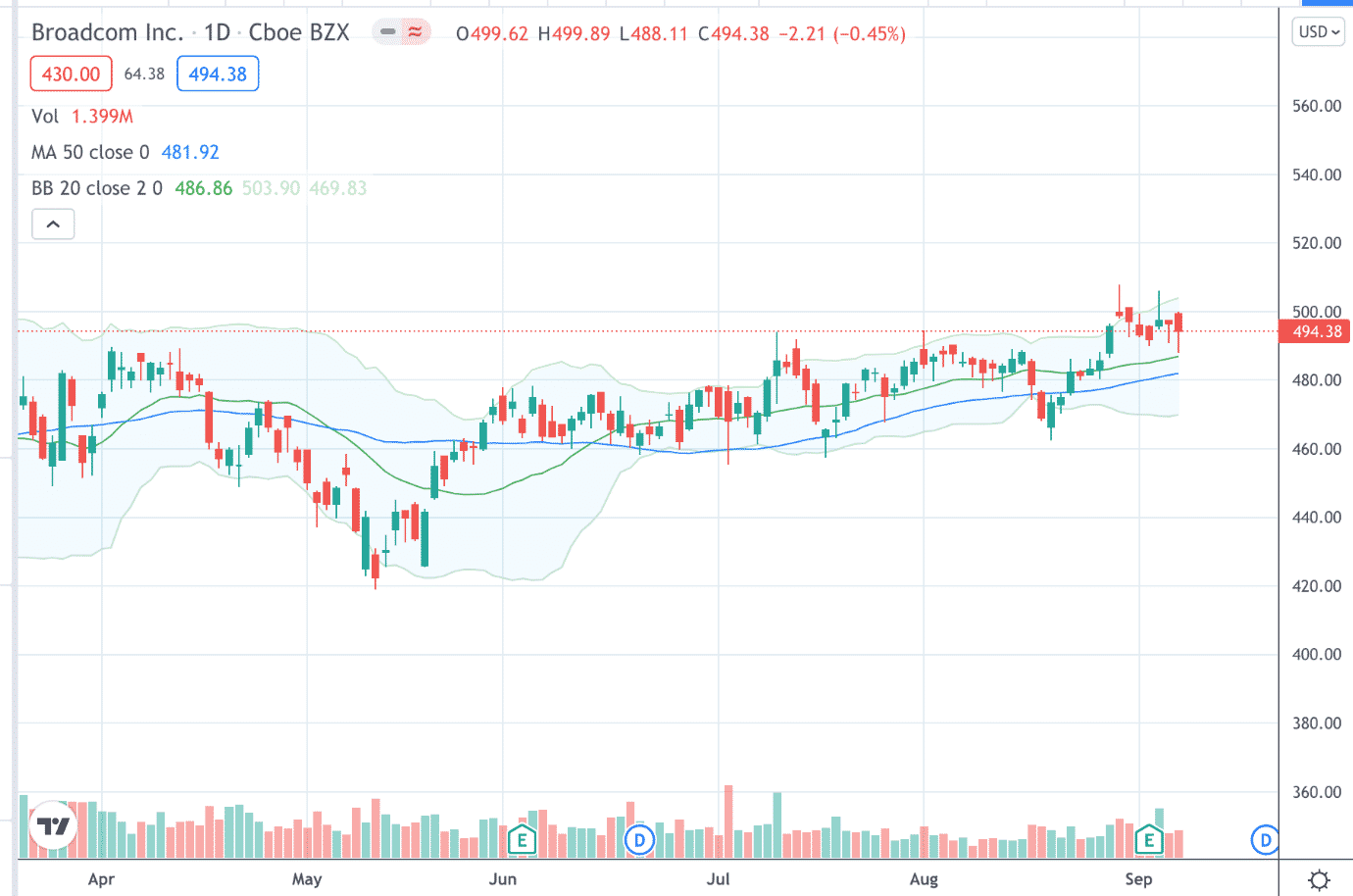 Look.
The price barely even moved after it crossed the last two earnings report.
However, we wouldn't be trading the condor across those earnings.
Home Depot (HD) – beta 1.02 As part of the DOW 30 stocks, this "do-it-yourself" home improvement chain store has around 2300 stores worldwide.
At the same time, its competitor Lowe's (LOW) has about 2000 stores.
Neither of them is likely to go out of business anytime soon.
Both stocks will work for iron condors, with Lowe's having a slightly higher beta of 1.34.
Texas Instruments (TXN) – beta 1.01 Texas Instruments is based in (you guessed it) Texas.
Originally well known for its Texas Instruments calculators, it is now a global semiconductor company that produces embedded processors.
Conclusion
That's it. That's 20 stocks for investors to trade iron condors on (listed in no particular order).
Of course, investors can do iron condors that would work equally well with many other stocks with the same characteristics.
But these will be a good start.
For investors that want to trade less safe but with a greater potential for reward, they can trade short strangles and even short straddles on these stocks as well.
Just cross your fingers and hope that the stock won't make a big price move while in the trade.
So watch out for when the market is in backwardation or when it has an upcoming earnings report.
Trade safe!
Disclaimer: The information above is for educational purposes only and should not be treated as investment advice. The strategy presented would not be suitable for investors who are not familiar with exchange traded options. Any readers interested in this strategy should do their own research and seek advice from a licensed financial adviser.

The post Blog first appeared on Options Trading IQ.
Original source: https://optionstradingiq.com/iron-condor-stocks/