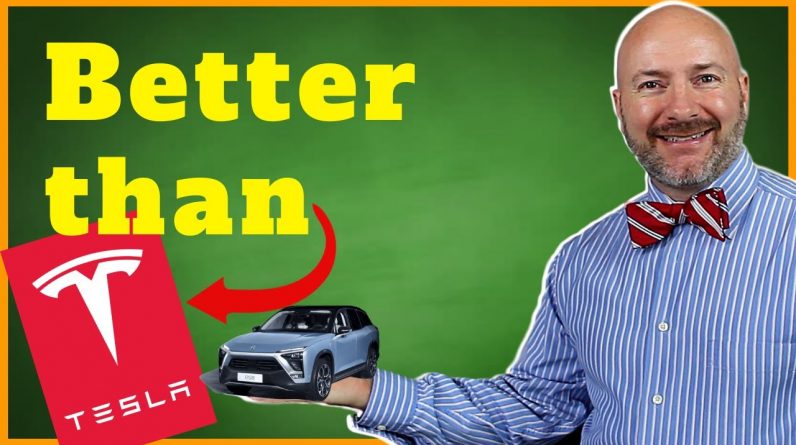 EV stocks are the hottest trend in investing right now but how do you find the few that aren't too expensive? In this video, I'll show you how to find EV stocks to buy and how to ride this trend without investing in Tesla or Nio.
Follow these and all the stocks in our 2021 Bow Tie Nation portfolio on Stockcard. Use promo code bowtienation for a special discount beyond the free trial! https://mystockmarketbasics.com/stockcarddiscount
As hot a topic as electric vehicle stocks are right now, it's surprising to think that electric vehicle sales are still just 2% of overall car sales. We are still in the very early stages of this revolution. In fact, it makes me think of the mid-90s before the internet boom got started.
But so many EV stocks like Tesla and Nio have already jumped. Tesla is up 600% and shares of Nio are up 16-fold over the last year. How are these stocks not ridiculously expensive and can they keep making money?
With the market growth of electric vehicles, the growth is definitely there. Sales could be as much as 10-times current sales in as little as five years and that would take even the most expensive shares higher.
But a better way to play the EV stock trend is to buy shares of companies across the supply chain; from lithium miners to batteries, parts and car makers. In this video, I'll show you how to start a list of the best EV stocks, how to narrow that list and which ones to buy. I'll then reveal three undiscovered EV stocks to buy right now.
🤑 Get The Daily Bow-Tie – my FREE daily email newsletter sharing market updates, trends and the most important news! Market Updates for the Smart Investor! https://mystockmarketbasics.com/dailybowtie
My Investing Recommendations 📈
📊 Download this Portfolio Tracker and Investing Spreadsheet! [Community Discount Code] https://mystockmarketbasics.com/spreadsheetdiscount
Check out the stock simulator and Get a FREE share of stock worth up to $1000 when you open a Webull investing account with a $100 deposit! 🤑 https://mystockmarketbasics.com/webull
Free Webinar – Discover how to create a personal investing plan and beat your goals in less than an hour! I'm revealing the Goals-Based Investing Strategy I developed working private wealth management in this free webinar. Reserve your spot now! https://mystockmarketbasics.com/free-investing-webinar
SUBSCRIBE to create the financial future you deserve with videos on beating debt, making more money and making your money work for you. https://peerfinance101.com/FreeMoneyVideos
Joseph Hogue, CFA spent nearly a decade as an investment analyst for institutional firms and banks. He now helps people understand their financial lives through debt payoff strategies, investing and ways to save more money. He has appeared on Bloomberg and on sites like CNBC and Morningstar. He holds the Chartered Financial Analyst (CFA) designation and is a veteran of the Marine Corps.