Tesla (TSLA) continues to be one of the strongest stocks in the market right now and is holding above rising 21, 50 and 200-day moving averages.
TSLA stock is putting in a nice series of higher highs and higher lows.
Traders that expect strength in TSLA stock to continue could look at a bull put spread option trade.
To execute a bull put spread, an investor would sell an out-of-the-money put and then buy a further out-of-the-money put.
Selling the November 19, 700 put and buying the 695 put would create a bull put spread.
< Download 9 FREE Bestselling Option Books >
This spread was trading for around $0.75 yesterday. That means a trader selling this spread would receive $75 in option premium and would have a maximum risk of $425.
That represents a 17% return on risk between now and November 19 if TSLA remains above 700.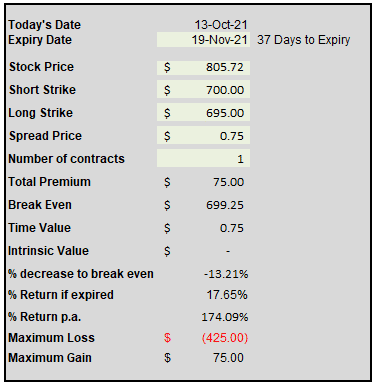 If Tesla stock closes below 695 on the expiration date, the trade loses the full $425.
The breakeven point for the bull put spread is 699.25, which is calculated as 700 less the 0.75 option premium per contract.
This bull put spread trade has a delta of 1 which means it is a similar exposure to owning 1 share of TSLA stock, although this exposure will change over time as the stock price moves.
In terms of a stop loss, if the spread increased in price from $0.75 to $1.80, I would consider closing early for a loss.
Tesla is due to report earnings on October 20th, with the options market pricing in a potential 7% move in either direction.
Trade safe!
Disclaimer: The information above is for educational purposes only and should not be treated as investment advice. The strategy presented would not be suitable for investors who are not familiar with exchange traded options. Any readers interested in this strategy should do their own research and seek advice from a licensed financial adviser.

The post Blog first appeared on Options Trading IQ.
Original source: https://optionstradingiq.com/tsla-bull-put-spread-example/