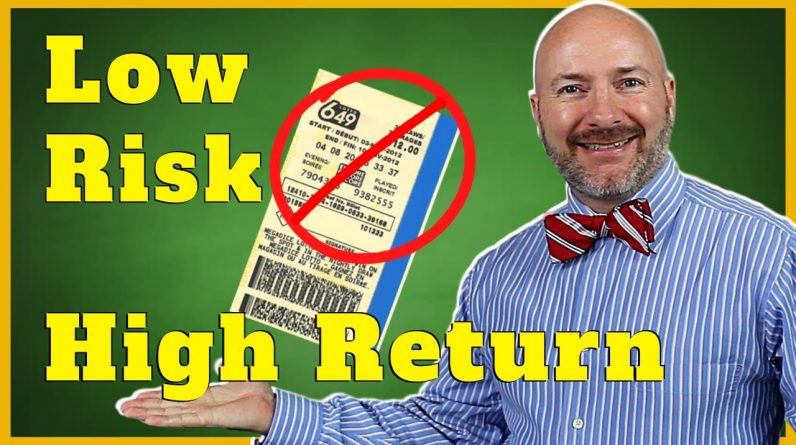 Investing in safe investments doesn't have to mean lower returns. In fact, these five safest investments will give you some of the best returns in your portfolio.
There is a time-tested trade-off between risk and return. Usually high-return investments come with higher risk and low-risk investments mean settling for lower returns. Like all rules though, you can break this one if you know where to look. You can take less risk and still get high returns on your money.
In this video, I'll explain that tradeoff between risk and return and show you how to bend the rule. I'll reveal the five safest investments then rank them for highest return and show you how to invest.
We'll start with investing in bonds but not just any bonds. I'll show you which bonds are safe but still produce high returns. Bonds are safer because it's an obligation, a debt the company has to pay before anything else. You collect a high interest yield two-times a year and then get your money back at the end of the bond.
Of course, there are risks to bonds like changes in interest rates and the solvency of the company but I'll show you how to invest in bonds without worrying about these risks. I'll show you how to get a higher return on your bonds.
Preferred shares are one of the best investments and so often overlooked by investors. These are a mix between bonds and stocks and give you the best of both worlds. In fact, some preferred shares can be converted into higher-return stocks.
With preferred shares, you get the safety in knowing that your dividends have to be paid before stockholders. If the company goes under, they have to pay you before many of the other equity owners. You get a higher dividend yield on preferred stocks and that safety, it's a win-win in my book.
We'll also talk about safety sectors in stocks, companies in sectors of the economy that don't get hit by a recession like others. These are stocks in sectors like consumer staples, utilities and telecom. People have to buy their products no matter what so these companies always make money and investors get high returns without the risk of other stocks.
Dividend stocks are another safe investment but not just any stocks. You need to know where to look for these though because there are a lot of dividend stocks with high yields that only destroy shareholder value.
Learn how to put these safe investments together for a portfolio you can count on. See how to get the high return you need but the low-risk investments that won't cause you to stress out!
Join the conversation in our private Facebook Group!
https://www.facebook.com/groups/3083628104983203/
Join the Let's Talk Money community on Instagram! https://www.instagram.com/lets_talk_money_josephhogue/
My Investing Recommendations 📈
📊 Download this Portfolio Tracker and Investing Spreadsheet! [Community Discount Code] https://mystockmarketbasics.com/spreadsheetdiscount
Check out the stock simulator and Get 2 FREE shares of stock worth up to $1000 each when you open a Webull investing account with a $100 deposit! 🤑 https://mystockmarketbasics.com/webull
Free Webinar – Discover how to create a personal investing plan and beat your goals in less than an hour! I'm revealing the Goals-Based Investing Strategy I developed working private wealth management in this free webinar. Reserve your spot now! https://mystockmarketbasics.com/free-investing-webinar
SUBSCRIBE to create the financial future you deserve with videos on beating debt, making more money and making your money work for you. https://peerfinance101.com/FreeMoneyVideos
Joseph Hogue, CFA spent nearly a decade as an investment analyst for institutional firms and banks. He now helps people understand their financial lives through debt payoff strategies, investing and ways to save more money. He has appeared on Bloomberg and on sites like CNBC and Morningstar. He holds the Chartered Financial Analyst (CFA) designation and is a veteran of the Marine Corps.