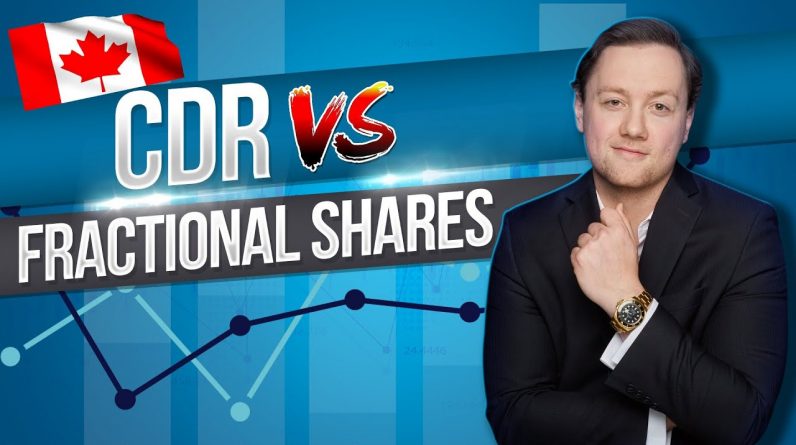 What is a CDR? A CDR or Canadian Depository Receipt is a security that is traded in Canada and in Canadian dollars, but it represents ownership in a company from another country. Currently you can find CDR's for a lot of your favorite stocks like Apple, Microsoft, and Amazon and in a lot of cases they are a much better option than fractional shares. In this video I am going to explain what is a CDR? and I am going to compare the fees of using CDR vs Fractional Shares
-FREE Stock Market Course: https://skl.sh/3gfbNae
-My DISCORD Chat: https://zachartley.ca/pages/member-access
-$50 with Questrade : https://www.questrade.com?refid=5f2310d1f1443
-Book a Call with me: https://clarity.fm/zachartley
-Start a trading Journal: https://www.tradersync.com/?ref=zachartley
– $50 in free legal fees at www.goodlawyer.com when you use ZAC-SG4Z7ULIB at checkout.
Checkout my website and resources at: https://zachartley.ca/
📈Subscribe for more: https://bit.ly/35Ek0Qa
📩To contact me, please email zhartley@hotmail.ca
🎬Footage available for license.
#daytrader #daytrading #stocks
DISCLAIMER: I am not a financial advisor nor a CPA. These videos are for educational and entertainment purposes only. Investing of any kind involves risk. While it is possible to minimize risk, your investments are solely your responsibility. It is imperative that you conduct your own research. I am only sharing my opinion with no guarantee of gains or losses on investments.
AFFILIATE DISCLOSURE: Some of the links on this webpage are affiliate links, meaning, at no additional cost to you, I may earn a commission if you click through and make a purchase and/or subscribe. Commissions earned will be used towards growing this channel.