If you decide to log onto your favorite stock brokerage platform, you might have a hard time finding the Chick Fil A stock symbol, considering that it doesn't exist.
There are several reasons that Chick-Fil-A has remained a privately owned company for nearly seven decades, and many of those explanations are offered to our readers below.
Contents
Introduction
Why Is Chick-Fil-A Privately Owned?
Financial Incentives for Chick-Fil-A
Could Chick-Fil-A Ever Go 'Public'?
Stock Price for Chick-Fil-A in 2021?
Final Summary | Chick-Fil-A Stock
Introduction
Chick-Fil-A is one of America's most popular restaurant chains that span nearly every state in the country.
Not only is it incredibly well-known for delivering high-quality food to its customers, but Chick-Fil-A has also developed a ton of interest from potential investors.
The only problem is that Chick-Fil-A is not currently a publicly traded company, which means that you can't publicly invest in the company at this time.
The company was founded in Georgia in 1946 and has since spent seven decades building an incredible reputation for delivering outstanding customer service and food.
Why Is Chick Fil A Stock Privately Owned?
Several factors play a role in why Chick-Fil-A has remained a privately owned enterprise throughout its existence.
Keeping Full Control of the Company's Ownership
Chick-Fil-A Doesn't Need Investors Due To Its Overwhelming Annual Success
The Founder Doesn't Want To Shift From The Company's Culture
One of the main reasons that Chick-Fil-A has remained privately owned is the simple fact of retaining full ownership of the company.
Most companies have to sacrifice their company's culture when becoming a publicly traded company because they sell a significant percentage of their company through publicly available stocks.
Another factor to consider is that Chick-Fil-A doesn't need to raise money, unlike many other companies with a very different financial situation.
Chick-Fil-A continues to easily place in the nation's top-10 restaurant establishments, even while following its internal cultural beliefs of shutting its doors every weekend on Sunday while its closest competitors remain open.
The company founder, Truett Cathy, has always expressed belief in keeping Chick-Fil-A's ownership within the family.
Having passed ownership to his son before dying, that desire to keep the company privately owned has remained in place and will probably not change anytime soon.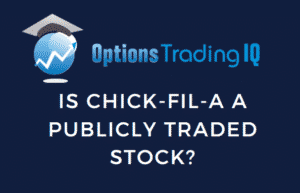 Financial Incentives For Chick-Fil-A
We've already talked a little bit about the financial incentives that some companies might have when deciding whether to become a publicly traded company.
Chick-Fil-A is in the unique position of having more than enough cash on hand and doesn't see a need to change that unless something drastic happens.
Many rival companies to 'Chick-Fil-A' can be found on the stock exchange.
For example, McDonald's (MCD), Jack In The Box, Wendy's, and Bloomin' Brands are a few examples of Chick-Fil-A's competitors offering shares to the public to raise money for their internal financial incentives.
There is almost no doubt that Chick-Fil-A would be an incredibly popular stock to own if it were available on public stock exchanges.
There are many potential benefits for Chick-Fil-A, but the financial incentives have not been worth the sacrifices that the company would have to make if it were to shift and become a public company.
Chick-Fil-A is known for following its beliefs, one of which includes remaining closed on Sundays.
There's significant concern that this type of decision would be overruled by shareholders, in the name of 'profits,' if Chick-Fil-A became a publicly traded company.
Could Chick-Fil-A Ever Go 'Public'?
Millions of potential investors have thought about the possibility of Chick-Fil-A going public and becoming a tradeable asset on the stock exchange.
There's little reason to believe that the established family ownership would decide to go public, but it's certainly not impossible.
Best of Options Trading IQ
Theoretically, it's possible that 'Chick-Fil-A' may struggle at some point in the distant future.
While it remains unlikely that they would ever become a publicly traded company, it's not impossible, depending on the circumstances.
With their continued success in recent years, you shouldn't expect to see a Chick-Fil-A stock symbol in the immediate future, but you should never completely rule out the possibility of it happening in the world that we live in.
Just know that it's going to take something significant for the family to overrule the wishes of the founder to keep the company's ownership private and only within the family.
Stock Price for Chick-Fil-A in 2021?
Does Chick-Fil-A have a stock price?
The answer to this question is no because the company is not publicly traded on any stock exchange at this time.
This means that public investors cannot buy shares in the company, and therefore, no stock price currently exists for Chick-Fil-A in 2021.
With continued internal business growth relative to its competitors, Chick-Fil-A remains in an incredible position.
While there's no way to even imagine what Chick-Fil-A's stock price might be if it decided to establish an IPO, investors would drool over the possibility of getting a significant number of shares as early on as possible.
Final Summary | Chick-Fil-A Stock
Chick-Fil-A is a reputable North American restaurant chain that has continuously provided excellent customer service and delivered outstanding food quality to its customers without sacrificing its internal cultural beliefs, as established by the owner.
Even as Chick-Fil-A's founder, Truett Cathy, passed away nearly seven years ago in 2014, the company has remained in the family's ownership. It will likely continue for many years into the future.
As Chick-Fil-A has navigated nearly seven full decades as a dominant restaurant chain, the amazing thing is that it still dominates an ultra-competitive fast-food industry and serves its customers in 47 different states across America.
While it's not currently possible to invest in the Chick-Fil-A brand, many similar competitors are publicly tradable on the stock market.
While many investors may be disappointed that they cannot buy a share of Chick-Fil-A's company and share in its success, many other fast-food stocks are available.
Trade safe!
Disclaimer: The information above is for educational purposes only and should not be treated as investment advice. The strategy presented would not be suitable for investors who are not familiar with exchange traded options. Any readers interested in this strategy should do their own research and seek advice from a licensed financial adviser.

The post Blog first appeared on Options Trading IQ.
Original source: https://optionstradingiq.com/chick-fil-a-stock/